Join Rep Rita Mayfield and others at an Environmental Town Hall Meeting on August 14th
08/04/2021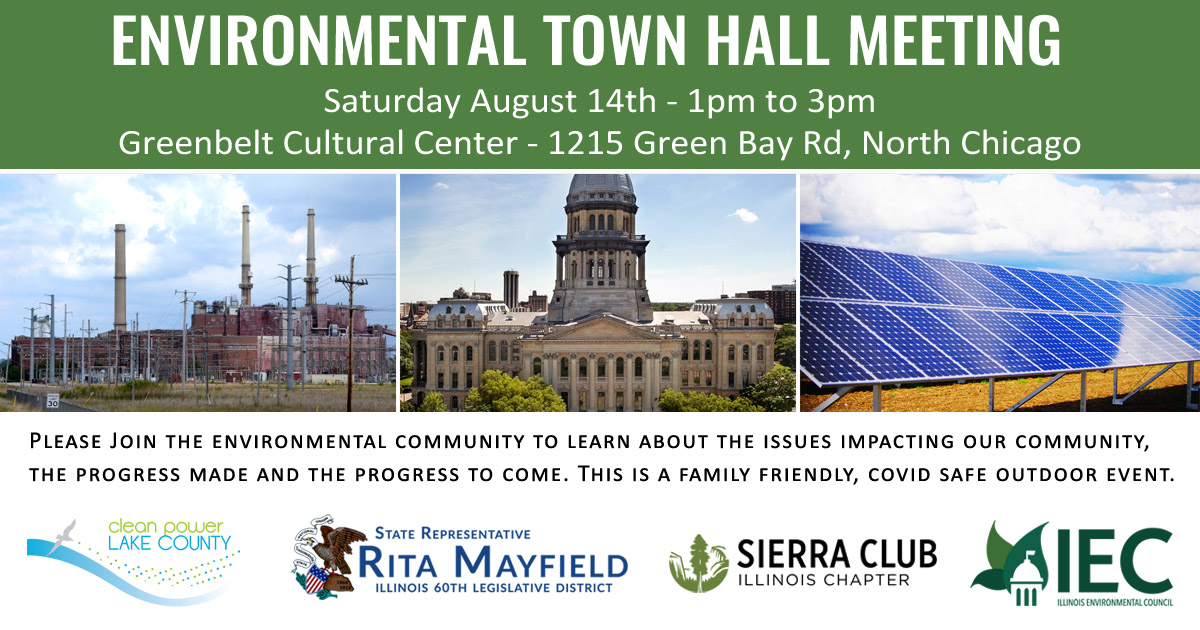 On Saturday August 14th from 1pm to 3pm, an Environmental Town Hall meeting will be held at the Greenbelt Cultural Center.
State Representative Rita Mayfield in partnership with Clean Power Lake County, Sierra Club Illinois Chapter and the Illinois Environmental Council will update our community regarding environmental issues that impact our area. Topics include the coming closure of the coal plant and its conversion to a clean energy facility, the Clean Energy Jobs Act and other environmental objectives.
The coal plant operated by NRG has been in existence for about 93 years. There is no healthy or safe way to burn coal in a densely populated city like Waukegan. It will close next year, with a target date of June 2022. Part of the transition process will involve cleaning up the existing coal ash ponds, which is a source of water contamination. Mayfield says that performing the necessary clean up and transitioning the facility to clean energy will maintain jobs and continue to generate revenue the city needs.
"Change requires a lot of people. It is an ongoing pleasure to work with other elected officials, community activists and our excellent environmental groups such as Sierra Club, Clean Power Lake County and the Illinois Environmental Council," said Mayfield. "It is a sincere pleasure to serve you and everyone in our community. I hope you can join us."
The event has been structured as an outdoor covid safe gathering, with social distancing measures observed. This is a family friendly event and people of all ages are welcome and encouraged to attend.