Special Session Update
05/26/2020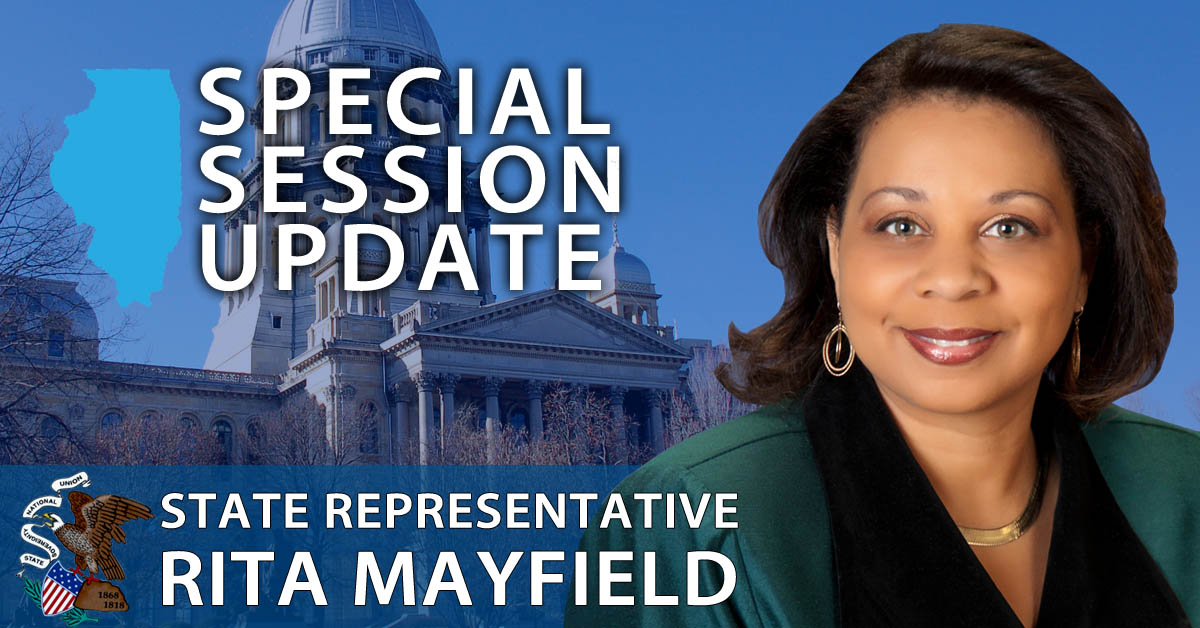 Dear Neighbors,
The General Assembly convened last week for a special session that concluded late Saturday evening. We are certainly in a time of challenge due to the public health crisis we face together as a community, our State of Illinois and Our Nation. Session was held at an alternative facility in order to practice social distancing. My colleagues and I wore our masks and we looked out for each other, knowing that we all depend on each other to fight the spread.
We were very focused on meeting the immediate needs of medical personnel, first responders and the needs of every person in Illinois during this difficult time. As House Democrats, we were particularly determined to provide resources to help communities that have been most impacted by covid-19. Ours is a community that has been sharply impacted, I worked with particular determination to ensure that the session addressed this reality. Here are some of the things that were accomplished during this special session.
Budget
The budget that we passed does not spend more than we have in revenue but expands the needs of critical services to take care of families with increased funding for Medicaid and full funding for unemployment recognizing the needs of those facing layoffs and furloughs. The budget includes: $719 million in new funding for public health, including $416 million for COVID-19 testing and other services performed by local health providers. Towards supporting education, the budget also provides level funding for our schools and more than half a billion dollars for early childhood education, 43 million for career and technical education to help those whose careers have been wiped out by the pandemic, and level funding for college financial aid through MAP grants and AIM HIGH scholarships. To help seniors and families, the budget provides additional investment in senior care, including $58 million in new funding for in-home health care for older adults, increased funding for homelessness prevention and full funding for domestic violence shelters.
We will continue to provide oversight of the office of the Governor who is required to regularly update the General Assembly regarding the fiscal health of Illinois.
Protecting Workers
We are eternally grateful to all of the front line workers who go to work every day in retail, medical, first responders and all who take risks in order to keep necessary components of society operational. We passed SB471 which eases the process of receiving workers' compensation benefits for police officers, fire fighters, EMTs, and workers at essential businesses who have been diagnosed with COVID-19. We also introduced a worker protection package that allows laid off and furloughed workers who were displaced by the virus to recoup a larger percentage of their previous income through unemployment.
Health Care
Health care is particular vital at this time. We passed SB1864 which expands access to tele-health and mental health care. Our package also directs the state's top health and insurance officers to report to the General Assembly on steps that can be taken to reduce the cost of health insurance.
Support for Property Taxpayers
Providing relief at this time is of the utmost importance. Families need every bit of their income to provide for their families. To reduce the burden, we suspended late payment penalties and tax sales to help homeowners.
Because this pandemic poses particular challenges to older adults who are also required to regularly reapply for tax exemptions, we worked to create a one-year application deferral for seniors, veterans, and persons with disabilities. This will ensure homeowners can continue receiving these exemptions without going through an especially difficult reapplication process.
I will absolutely continue to look for ways to further reduce the burden on working families.
Helping Students
The pandemic has certainly changed many timelines and ways that schools need to operate safely. We are working in consultation with the State Board of Education, we have taken steps to help schools accommodate remote learning and codify graduation requirements for this year. We are also working to ensure student teachers meet their requirements remotely.
Protecting Voters
The right to vote is fundamental to maintain a true democracy. While the pandemic has also posed challenges to the ways that we have conducted elections, we are working on ways to ensure that every citizen can exercise their right to vote and do so safely. We expanded "vote by mail" options, created the opportunity for local election officers to help people vote through additional 'curbside voting' options and set special voting hours for seniors.
More to Come
While this special session was designed to take care of the most immediate needs, as the General Assembly, we work remotely every day through our working groups to take care of the matters affecting our communities and the State of Illinois. I will certainly have more updates as we progress. While my physical office is closed to help fight the spread, my staff and I remain here for you. Please call (847) 599-2800 or email 60thdistrict@gmail.com. It is an honor to serve as your State Representative.