Illinois Working to Combat COVID-19 in Latinx and All Communities Hit Hard by Virus
05/18/2020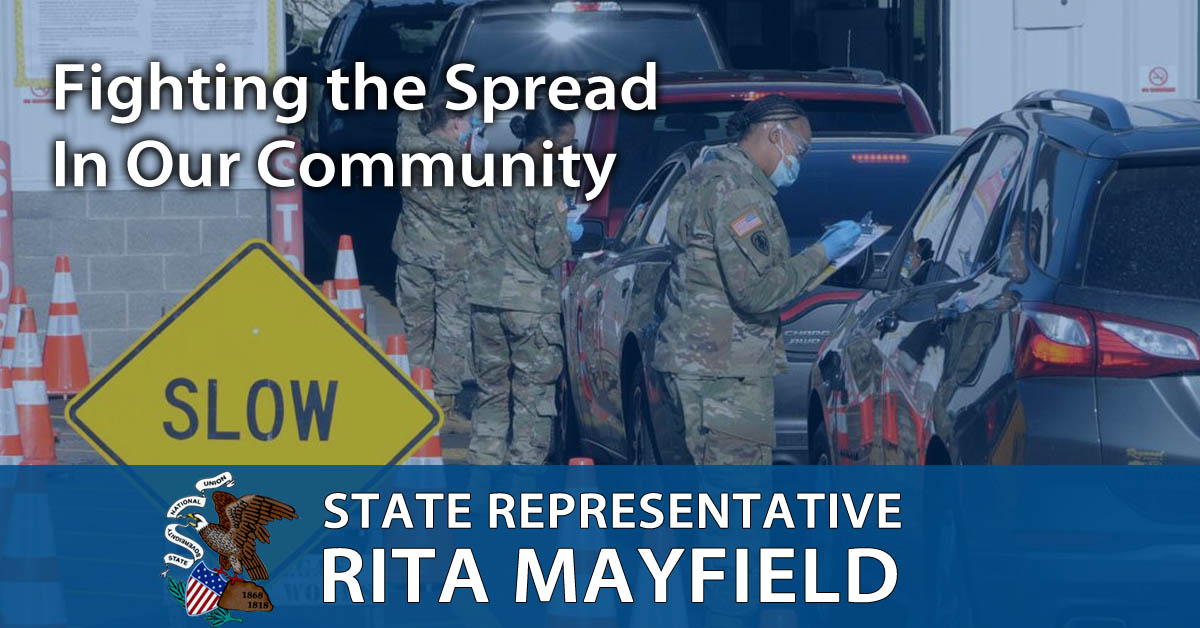 Waukegan
– We are very much in a time of challenge owing to the spread of covid-19. The impact has been greatest on communities of color such as those in our district. Statistics are revealing that Latinx and African American communities are being hit disproportionately hard.
"It is very important for people to know that the State of Illinois is working hard to fight the spread of the virus in Latinx and all communities of color," said Mayfield.
Testing Sites
A testing center opened here in Waukegan on May 3rd. It is available to anyone who is experiencing symptoms. It is also open to people who don't have symptoms but have been exposed to someone infected, people with chronic medical conditions, healthcare workers, first responders, correctional facility workers and all critical infrastructure workers which means grocery stores, pharmacies, restaurants, gas stations, public utilities, factories, childcare and sanitation, and more. The drive-thru facility is located at 2161 Northwestern Ave. and is open seven days per week from 8 a.m. to 4 p.m. Testing is free.
Resources
United Way of Lake County maintains an excellent contact point for assistance. If you need help with housing, food, health care, crisis help and more, United Way has multi-lingual operators standing by through their 211 system. It is always open, completely confidential and totally free. You can text your zip code to 898211 and operator will call you back. You can also phone 1-855-677-5253 or visit
https://211lakecounty.org
The Illinois Department of Human Services maintains a service hub to provide free resources to our immigrant and Latinx communities through the Illinois Welcoming Centers (IWC's). The IWCs provide emergency funds to provide food and necessities, assistance to enroll in SNAP, WIC, TANF and public benefits, and access to medical resources. For more information on our IWC's, visit:
www.dhs.illinois.gov/ImmigrantHelp
.
Please Continue Social Distancing
Staying home if you are not feeling well, is critically important and if you are think you are experiencing covid-19 symptoms, don't wait to get tested. Our Waukegan testing center is there for you. It is very important to stay home as much as possible. When you have to go out, wear a mask and maintain a six foot distance. Washing your hands with soap and water for 20 seconds is also one of the most effective ways to help stop the spread of the virus. These steps will help protect your family and our collective community.
"Our Latinx communities are vibrant, hard working and contribute to our District, making it strong. We are all in this together," said Mayfield. "Please take advantage of the testing center if you are experiencing symptoms or are in one of the other categories. While my office remains closed to help fight the spread and we're working remotely, my staff and I are here for you."